It's mid-February.  I feel my east coast roots.  Back home I wouldn't even be thinking of racing yet.  Only dreaming.  But out here in California it's always on the mind.  Specially this winter with so little rain.  I've been to the shop a few times this winter.  Good feeling out there at Tri Valley Moto.  Very different.  To be honest it's always been a bit of a ghost town there.  The building that houses Tri Valley Moto is about four times bigger than the area the shop uses.  Up until recently the rest of this building has been vacant.  Always that's left me with a scary feeling inside.  Like how do you sell bikes to no people?  Since they opened it's been like this.  But now that's all changed suddenly.  A casino (Casino 580)opened up two months ago in the opposite end of the building.  That lot is packed 24-7 now.  In fact the street out front is packed as well.  Amazing how hard it is to sell people something they can actually take home with them – but give them a chance to risk losing it all and they're all over it.  It's that lure I guess – easy money.  If life only worked that way reliably.
Next to the casino is a new classic car dealership now too.  Real high-end cars.  Mostly hot-rods.  There's a Woody in there selling for 150K.  WTF?  So anyway it's a good feeling you get pulling into the dealership now.  It's very much alive over there.
The shop is pretty well alive too.  Our trusty Superduke is finally even showing signs of life again.  Since late 2010 that beautiful machine has sat in ruins, idle in a pile in the back of the shop.  What a tragedy.  But last month Keith took the frame to Gerry Piazza to get measured.  Believe it or not it's straight as an arrow.  How is that even possible?  Here are a few pics from the wreck that almost ruined us all – but definitely wrecked our SDR.
My hope is that we can resurrect this racing steed.  Maybe use it as a backup bike.  Who knows, if we get her running well enough maybe we can do battle again in Formula One.  Not much would make me happier.
As for the RC8R, the guys at the shop already went through the motor.  Freshened it up, squared it away.  The whole bike is ready to run.  Only thing we intend to change is the paint.  Honestly, or RC8R has so much potential for looks.  But God dam that thing is the ugliest bike I have ever raced.  It's got a peculiar nose on it.  Paint it right and it's great.  But painting it "right" is a hell of a challenge.  We have yet to get it right so aesthetically our RC8R has always been a dog.  We are looking to change that this year.  In fact I've already spent some time at the shop doing bodywork and paint prep.
I hate to be a copy-cat but HMC's RC8R is one of the hottest looking machines I have seen.  Here are a few pics of it.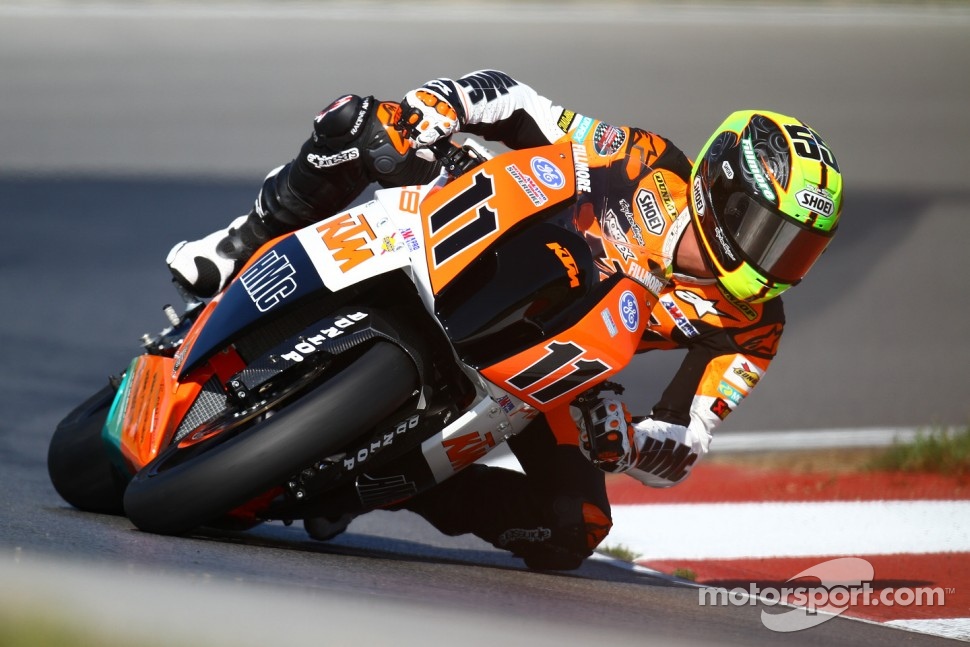 I mean really, someone at HMC has to be about one chromosome away from being a graphic designer.  What a beautiful paint job.  Simple, but hot.  Trust me, the days of our RC8R looking like the paint job was an after-thought are over.  We've got new leathers now, a new year, new Michelin tires – let's start looking a little nicer too.
As for performance.  Well we're all a little torn about that.  Yes, our motor is basically stock.  We have the supersport kit – pipe, thinner head gasket, different cam timing – but that's about it in the horsepower department.  We get eaten up on the straights.  BUT…  having said that, we do have our chassis pretty well dialed now.  What we lose on the straights we make up for when this bull is at full lean.  Plus from what we have observed while others race these RC8Rs around here in the US, every time someone goes for the superbike, super-horsepower numbers they seem to lose reliability.  I know of three that have blown up in local series.  And I know the HMC bike has blown up two times while running in the AMA last year.  That's one thing we do not need, unnecessary explosions.  I've been through enough of that on the Ducatis.  Great bikes, but not reliable and DEFINITELY fragile.  So far, from our experience, our KTM motors have been very reliable.  Our SDR had three seasons on it before it wore out.  Our RC8R now has two.  But it's been freshened up a month ago so fingers crossed it should be good for a while yet.
Speaking of "Bulls" I am thinking of creating another graphic for this year.  I do have our original "Duke" graphic in a sticker form.  It's actually really nice, thick, shiny sticker material.  It has this website across the bottom but if you don't want that you can simply cut it off.  I have the sticker in two sizes – small and large.  Small is about 3″ wide, large is about 6″ wide.  here is the artwork for the sticker.  If you want a sticker email me.
In the mean time this is very unique – never before has a race bike that I am scheduled to race, been ready so early.  It's rather shocking.  It's also exciting.  What's the greatest part of all this is our chassis is now finally set up so well I could cry.  We got it dialed just before last year ended for us – which is ironic – but I am not complaining.  That bike was awesome to ride last time out.  I can't wait to ride it again.
Lastly we have new tires now.  Michelin finally stepped up to the plate again.  I will have to write about the new tires they have for this year in a separate article.  I got to test a set last year and they are COMPLETELY different in design to what we have been using for many years now.   I'm not talking compound changes here.  I am talking about a total redesign, like from a different company – different.  Totally opposite approach to carcass structure, pressures, tire thickness, and more.  I actually have a set here in the garage.  I'll take photos and post up in a day or so.
So very exciting stuff for this year.  Stay tuned and stay well,
GoGo